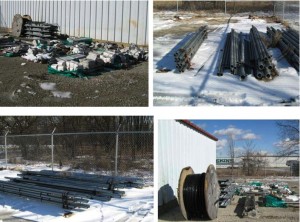 New Mounts, Ice Bridges, Platforms, and Cable Runway
All NEW & UNUSED!!
Platform kits for cabinets 4 ea.
Mounting pipes 120 ea. (approximately)
Mounting pipes kites 4 ea.
Ice bridge kits 9 ea.
Stand off kits 5 Pallets
Hardware, All thread, U bolts, Assorted nuts, bolts and washers, Crossover clamps, Round member support bracket, Z-Bracket, Hoisting grips, Cable snap-Ins. 4 Pallets
Stand off, 2 sector set 1 Pallet
Cable runway 3 ea.
$4000 takes it all